Entest BioMedical and RenovoCyte Begin Pilot Study of "Universal Donor" Stem Cell Treatment of Canine Osteoarthritis
Entest's McDonald Animal Hospital in Santa Barbara Treats First Dog in 10 Dog Pilot Study
(November 18, 2011)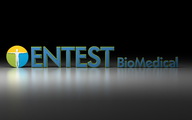 SAN DIEGO, CA -- (Marketwire) -- 11/18/11 -- Entest BioMedical Inc. (OTCQB: ENTB) (PINKSHEETS: ENTB) and RenovoCyte LLC today announced the treatment of the first canine patient of a 10 dog pilot study utilizing Canine Endometrial Regenerative Cells (CERC) licensed from Medistem Inc. (PINKSHEETS: MEDS) in the treatment of canine osteoarthritis. The procedure was performed at Entest's McDonald Animal Hospital in Santa Barbara (http://www.mcdonaldvet.info/), which is currently accepting dogs with osteoarthritis who meet inclusion criteria. Osteoarthritis is considered one of the most common causes of lameness in dogs and decreased quality of life. It is caused by a deterioration of joint cartilage, followed by pain and loss of range of motion of the joint.
The CERC is a "universal donor" stem cell product that does not require matching with the recipient allowing for the generation of standardized products that can be delivered to the office of the veterinarian ready for injection. This is in stark contrast to current stem cell therapies utilized in veterinary applications which require the extraction, manipulation, and subsequent replantation of tissue from the animal being treated. CERC is the canine equivalent of Medistem's Endometrial Regenerative Cell (ERC). Medistem was recently granted approval from the FDA to initiate a clinical trial in human patients using its ERCs.
"Endometrial Regenerative Cells produce substantially higher amounts of growth factors as compared to other adult stem cells, are potent at inhibiting inflammation, and can home to the site of tissue injury and exert a healing effect," said Dr. Greg McDonald, Chief Veterinarian of the McDonald Animal Hospital.
David Koos, Chairman and CEO of Entest, commented, "This marks the beginning of a new era in veterinary regenerative medicine. For the first time a stem cell product exists which can be generated inexpensively in the laboratory, shipped and stored frozen at the office of the veterinarian, and injected intravenously without need for specialized equipment. We believe that positioning ourselves in the veterinary market will allow rapid proof of concept, both clinically and financially."
"As a practicing veterinarian I witness first-hand the devastating effects of osteoarthritis in pet dogs, for which no curative treatment exists to date," said Dr. Shelley Zacharias, of RenovoCyte (www.renovocyte.com). "Promising data from this pilot study will be a fundamental step in creating a clinically-applicable stem cell therapy that is inexpensive, easy to use, and can be implemented on a wide-scale."
A spokesperson for Entest noted the Company is also currently conducting a 10 dog safety study on its immune-therapeutic cancer vaccine for dogs, having treated 3 dogs so far.
About Entest BioMedical Inc.:
Entest BioMedical Inc. (OTCQB: ENTB) is a developer of veterinary medicines that harness the animal's own reparative / immunological mechanisms. The company's products include an immuno-therapeutic cancer vaccine for canines (ImenVax™). The company's immuno-therapeutic cancer vaccine utilizes an encapsulation device as the vaccine delivery system and requires a simple implant procedure.
Disclaimer
This news release may contain forward-looking statements. Forward-looking statements are inherently subject to risks and uncertainties, some of which cannot be predicted or quantified. Future events and actual results could differ materially from those set forth in, contemplated by, or underlying the forward-looking statements. The risks and uncertainties to which forward-looking statements are subject include, but are not limited to, the effect of government regulation, competition and other material risks.
Add to Digg Bookmark with del.icio.us Add to Newsvine
Contact:

Entest BioMedical Inc.

David R. Koos
Chairman & CEO

619.702.1404 Direct
619.330.2328 Fax
Email Contact
www.EntestBio.com


Copyright @ Marketwire
Page: 1
Related Keywords:
Entest BioMedical Inc., Marketwire, Inc., ,Healthcare,Pets,Medical,Agricultural Science,Biology,Stem Cell,Cancer,Other,
---