Sphere 3D (TSXV: ANY) (NASDAQ: ANY) Corporate Update
-- July 28, 2014--
Sphere 3D (TSXV: ANY) (NASDAQ: ANY) Corporate Update
Ideas get bigger when you share them...
M...
...Read More »
DTS to Report Second Quarter Fiscal 2014 Financial Results
Calabasas-- US -- July 28, 2014--
CALABASAS, Calif., July 28, 2014 (GLOBE NEWSWIRE) -- (Nasdaq:DTSI), a leader in high-definition audio solutions and audio enhancement technologies, today announced that it will release financial results for the second quarter ended June 30, 2014, following the close of the market on August 11, 2014. DTS will also host a conference call and live webcast at 1:30 p.m. Pacific Time to discuss the ...
...Read More »
HSN's "Queen of Invention" Joy Mangano Shatters Records Again with History-Making Sellout
Florida, -- July 28, 2014--
ST. PETERSBURG, Fla.
,
July 28, 2014
/PRNewswire/ -- "Queen of Invention,"
Joy Mangano
shattered records once again at entertainment and lifestyle retailer HSN this past weekend, when she sold close to half a million of her Comfort & Joy MemoryCloud pillows. The highly successful entrepreneur.....
...Read More »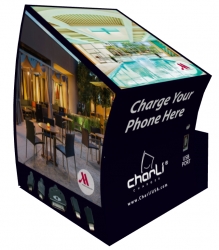 Hotels Across the Country Now Offering the CharLi Charger to Their Guests to Charge Cell Phones
California: Los Angeles-Long Beach,Pacific Palisades,California,United States -- July 28, 2014--
...Read More »
Scott Grossman Joins Keeper as Chief Operating Officer
CHICAGO, IL -- July 28, 2014--
CHICAGO, IL--(Marketwired - July 28, 2014) - Keeper, the world's most secure and popular password manager and digital vault, has added Scott Grossman as its Chief Operating Officer. As COO, Grossman will be responsible for strategic business development and operations.Prior to joining Keeper, Grossman was President and COO at Brad's Deals and SVP of business development at.....
...Read More »
In Apex Report, 11 Experts Weigh How to Best Approach Rise of Video
Virginia, -- July 28, 2014--
HERNDON, Va.
,
July 28, 2014
/PRNewswire/ --Video is becoming essential for effective communication in corporate training, education, entertainment, public relations and advertising, science, medicine, news, sports and scholarly publishing, Apex CoVantage finds in an in-depth report it issued today.
...Read More »
MEDIA ALERT: Cadence to Deliver Keynote Speech and Showcase IP Technology at 2014 Flash Memory Summit
California, -- July 28, 2014--
SAN JOSE, Calif.
,
July 28, 2014
/PRNewswire/ --
...Read More »
Aleratec Announces Tips and Tricks Video Series to Educate Consumers on Duplicator and Publisher Best Practices
-- July 28, 2014--
Chatsworth, California (PRWEB) September 25, 2013 Aleratec Inc., a mainstay in digital duplication technology development and manufacturing with over 12 years of expertise in the industry, today announced the laun... ...Read More »

McObject CEO Steve Graves Chosen as Flash Memory Summit Speaker
FEDERAL WAY, WA -- July 28, 2014--
FEDERAL WAY, WA -- (Marketwired) -- 07/28/14 -- McObject® announced that Flash Memory Summit, the world's largest conference dedicated to flash memory and its applications, has chosen company co-founder and CEO Steve Graves to speak at two sessions of this year's event, to be held in Santa Clara, CA on August 5 - 7. The presentations each focus on a different strategy .....
...Read More »
AT&T Confirms Plans To Deliver U-Verse With AT&T GigaPower(SM) In Nashville
Tennessee, -- July 28, 2014--
NASHVILLE, Tenn., July 28, 2014 /PRNewswire/ -- AT&T* today confirmed it will expand its ultra-fast network to the City of Nashville. The AT&T GigaPower network will provide services offered over an all fiber network featuring symmetrical upload and download broadband speeds up to 1 Gigabit per second, and AT&T's most advanced TV services to consumers and businesses.
...Read More »